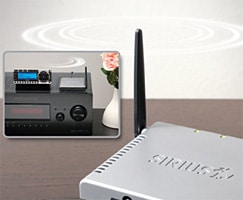 Sirius subscribers will be happy to know that the long awaited Sirius Echo Signal Repeater System is now officially available. Our friends at TSS-Radio have the system in stock, and ready to ship.
The Sirius Echo is designed to allow you to freely place your satellite radio receiver in virtually any location because it operates wirelessly as a connection point to your antenna. Basically, the system takes away the need for antenna extension cables, giving you the freedom to properly locate your antenna for optimum signal, and using the wireless capability to then place your receiver wherever best suits your needs. The signal can pass through ceilings and walls for a range of about 75 feet.
Now, to be clear, the system uses an Echo Transmitter and Echo Antennas. This means that each radio you hook up will require an Echo Antenna connected to the home kit dock, boombox, or shelf stereo system. The Sirius Echo will not function for a Stiletto in a portable mode (undocked). Improved signal capability requires that an Echo Antenna be attached.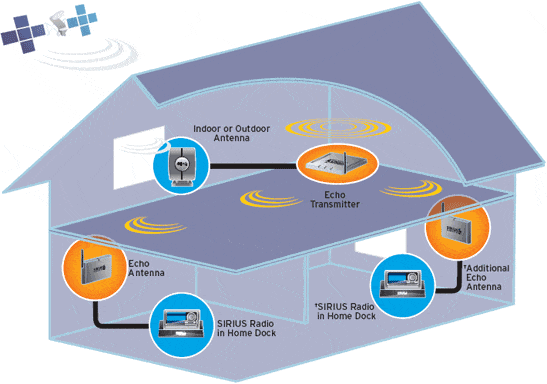 The Sirius Echo comes at a very consumer friendly price of $99.99 and comes complete with a transmitter, one antenna, and an AC/DC Power Adapter. The Echo provides and inexpensive solution for home owners and apartment renters alike by avoiding the run of long and unsightly antenna extension cables. Additional Echo Antennas (for hooking up to additional receivers) will be sold separately and should be available by the end of the month.
Contact TSS-Radio for purchase or additional information.
Position - Long Sirius - TSS Radio Is A Site Sponsor