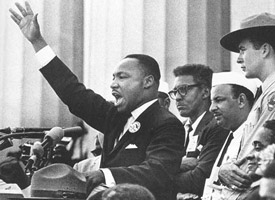 In honor of Martin Luther King, Jr. Day, Sirius will feature special programming across its talk and music channels from Friday right through Monday, in a tribute to the legendary Dr. King.
Mark Thompson, host of Make it Plain, will welcome Martin Luther King III, Chairman and CEO of Realizing the Dream, Inc. as his special guest on January 18 at 5:00 pm ET. Thompson worked closely with the King family in organizing the 30th, 37th and 40th Anniversaries of the March on Washington and emceed all three.
Thompson will also play and provide commentary for Dr. King's August 16, 1967 speech, "Where Do We Go From Here?" beginning at 5:00 pm ET January 21 (ch. 146). This speech is one of King's last addresses and is considered to be one of his most radical.
The Heart & Soul channel (ch. 51) will broadcast excerpts from Dr. King's historic speeches throughout the day on January 21. The special remembrance will feature speeches from Dr. King's life, including "I Have A Dream", his 1963 speech from the steps of the Lincoln Memorial, that inspired the nation to take up the causes of the Civil Rights movement and "The Promised Land", Dr. King's last sermon delivered at the Mason Temple in Memphis, TN on April 3, 1968 - the day before he was assassinated.
In addition, starting Monday at 6:00 am ET, Sirius' Soul Town (ch. 53) will spotlight music, which was inspired by Dr. King and the Civil Rights Movement. The special musical tribute will include songs by artists such as Sam Cooke, Edwin Starr, and The Impressions.