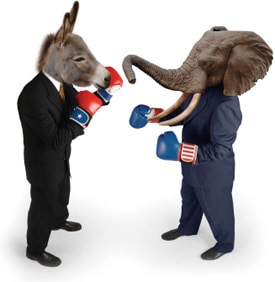 With the 2008 election getting into full swing, and all of the political coverage available on satellite radio, we have decided to offer our readers a political forum. The political forum is where you, the Sirius Buzz reader, can take things a bit off topic. Nothing is off base, and the forum is all about Politics!
Is Hillary Clinton the one to beat on the left? Can Romney beat out Ron Paul? What about Obama and Guiliani? And what about the political side of the proposed Sirius and XM merger? Is the FCC running in capable hands? Is the Department of Justice dragging their feet? Does the new Media Ownership ruling impact the merger? The Sirius Buzz Political Forums gives you a place to interact, debate, and even slam someone who has the nerve to oppose your view of the political world.
Left, Right, or Center, you can find it on satellite radio. Did you hear a show on Sirius or XM that struck a nerve? Speak out about it here.
Yes, you come to Sirius Buzz for in depth news and opinion on satellite radio, but now you can get your political fix covered as well.....all in one convenient place. See you in the Political Forum.