Sirius and XM have begun to turn up the heat on the merger. Consumers interested in learning more about merger related information should go directly to the new websites created by Sirius and XM.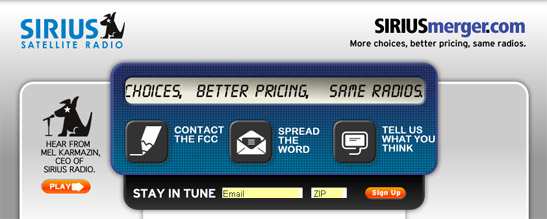 The sites, SiriusMerger.com and XmMerger.com are full of information relating to merger opinion, as well as informative consumer information regarding existing hardware and how to share your opinion.
One key feature of both sites is the ACTION CENTER which informs consumers on how they can participate in the process. I encourage readers to sign up for the "Spread the Word" section as a way to keep informed. Additionally, there is a tab where your comment can be entered and sent directly to not only the FCC, but your senators and congressmen as well. Think of it as a one stop shop to let the folks in Washington know your feelings.
If you are interested in satellite radio, you owe it to yourself not only to obtain all of the information regarding the merger, but also to let your opinions be heard.
Position – Long Sirius, Long XM