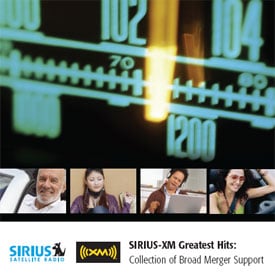 In a massive 209 page Exparte filing with the FCC, Sirius and XM have compiled what they term as the "Greatest Hits" of the people and organizations that have expressed support for the merger. The GREATEST HITS gives the FCC a collection of broad merger support.
The filing brings home the point that many have made over the past year. PEOPLE AND ORGANIZATIONS WANT THIS MERGER. Issuing this filing at this juncture could be an indication that Sirius and XM feel that indeed an FCC decision is near. A filing such as this reinforces sentiment that has been expressed over the past year. It demonstrates the wide range of diversity in merger support, and helps squelch some of the arguments that have been put onto the table by those against the merger.
The filing is broken down into 10 categories including think tanks, minority organizations, retailers, auto manufacturers, family and religious, talent, politicians, editorial boards, the media, and Sirius and XM's own ads. Many expect that an FCC decision is drawing near. I have placed my own estimate of the decision timeline for the middle third of April.
Sector watchers will want to review this interesting filing.
Position - Long Sirius, Long XM