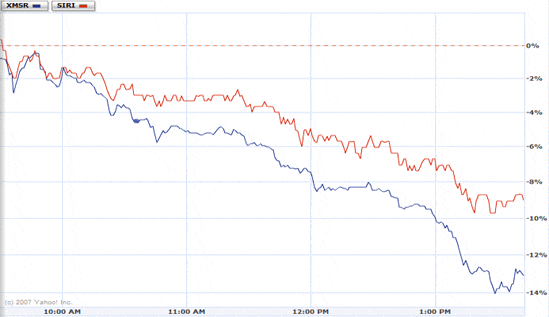 Today is not a banner day for investors in the satellite radio sector. Sirius and XM succumbed to selling pressure and both companies broke through their last support levels by mid day, leaving people wondering what the afternoon will bring, and when this downward pressure will ease up. In many ways, satellite radio investors are eagerly anticipating the closing bell because at least will will give a slight reprieve to the intense selling pressure.
Rumors from Starbucks selling shares of XM, to leaks about a negative merger decision have sprung up with nothing concrete to back them up. The selling is simply happening, and seems to continue unabated, as these equities pass through levels not expected by most.
Trading action saw Sirius dip into the $2.60's (nearly a 10% hair cut), and XM dip into the $9's (a trimming of over 12%). The merger ration has even tested it's widest gap since the announcement of the merger in February of 2007. Are we approaching capitulation, or will the downtrend continue? At this point who can tell.
They trading day has a few hours left, and many nervous investors.
Chart From Yahoo Finance
Position - Long Sirius, Long XM