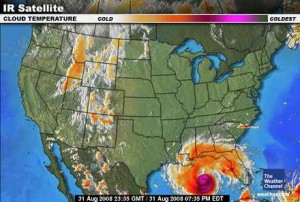 I admit it. I am obsessed with Hurricane Gustav. I clearly remember the destruction and the loss of life of a few years ago. The destruction was not just physical. Families were torn apart, uprooted and many were further victimized following the largest natural disaster in U.S. history. No matter what you may feel about an individuals choice to live there, children who had no choice died.
Yesterday, SiriusXM issued a press release that they had activated the emergency channels on both Sirius 184 and XM 247. I thought an act of this magnitude was important enough to warrant an immediate posting of the company's press release, as the potential to perhaps not only help save lives but to ease the burden of those being evacuated existed.
As I jumped into my car tonight to head out to the store, I decided to tune my own receiver to Sirius 184 to see exactly how satellite radio might benefit people, including myself and my family, in the event of an emergency.
I expected to hear some generic news regarding the hurricane; it's intensity, it's path, etc. What I found was much, much more. Being broadcast are actual shelter locations such as schools by names and addresses as well as telephone numbers for those in need of evacuation assistance and local curfew information.  Tips for not only riding out the storm but checklists of items to pack were also offered. Airport information was made available for Louisiana and Alabama as well. This information was given out for several states in the affected area, in a clear and precise manner.
Of course detailed weather information is being given along with broadcasts from government officials including interstate contraflow information by highway number. I know they have local radio stations there, yet the potential exists that those radio stations may be unable to broadcast very soon or that the evacuee's will be out of range to pick up their signals.
I also heard a Sirius commercial. It seems that any and all radios have been activated, and Sirius is reaching out to those people to subscribe. I know that no channels work including channel 184 if the subscription has not been activated. The commercial tells me that SiriusXM has done the right thing by activating this channel on all radios, subscribed or not.
I imagined myself and my family being stuck in 14 hours of traffic as we fled for our lives and immediately realized the benefit that satellite radio provides in these situations. Chances are I would have checked up on the current situation when the family took a break at a rest stop, and we would have just listened to the commercial free music or comedy channels, just to keep upbeat. I've yet to see an iPod do any of this.
Position: Long SIRI