We saw some good things in the trading action with SiriusXM.  The equity formed a bottom and the equity price increased on higher volume that the previous session.  I had told readers that the bottom was forming, and it feels good to have seen it happen.  We have two strong support levels below.  The first is at $3.84 and the second at $2.73.  That should give investors confidence in the upside potential vs. downside risk.
The EMA chart is once again all green.  It is not coiled, but we are looking at the early stages of a quest to break the $4. barrier.  Analyst Piper Jaffray has place an impressive $5 target on this equity.  Higher targets seems to be the trend, so we will simply appreciate what we have.
Watch to see volume inch up again.  What we want is to hold the line on current volume, or to see a step up in volume in lock-step with a step up in equity price.  I suspect that we will need to knock on the $4 door a couple of times before it opens up, but good news could see us burst through.  Either way, $4 is headed our way.
Volume

Support and Resistance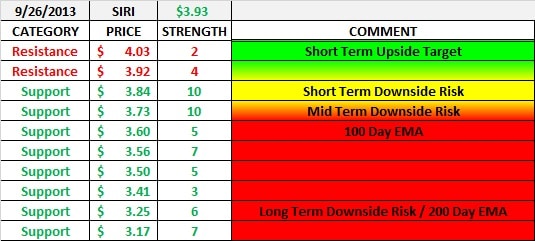 Exponential Moving Average