This equity is drifting lower and testing support levels.  While looking at the price of an equity dropping does not always seem comfortable, the amount of a potential drop may not be as bad as many investors think.  In my opinion the downside risk is the 200 day EMA which sits at about $2.80.  From current levels that would be about 20 cents worth of exposure.  Meanwhile, over time, the potential upside is $3.50 and beyond.  The company is performing well and there is no reason, especially with a share buyback in the plans, for the equity not to make a move at some point.  Simply stated we are fast approaching what could be a serious accumulation phase.
Volume 
Volume on Friday was lighter than the previous day and the equity managed to pick up a penny.  While it would appear that a mini bottom has set in, bear in mind that we have yet to see "real" volume on any move of late.  Watch for risks below the next support levels at $2.99 and $2.95.  Both of these levels have been tested lately.  A possible bounce point sits at the 100 day EMA at about $2.95.  That is the key level.  If this equity closes below $2.95, a trip to $2.80 is much more likely.

Support and Resistance
There is support at $2.99, but the key support is at $2.95.  Pay close attention at current levels and below.  Strong resistance now sits at $3.08.  Things are VERY tight right now.  A compelling move of 10 to 15 cents in a couple of sessions is quite possible.  Given the risk vs. potential profile, this could be a decent phased entry point.  Active traders that guess the direction right can score, while those that guess wrong will be frustrated.  Longer term I remain bullish.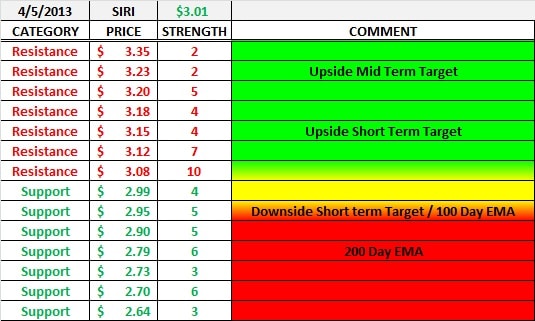 Exponential Moving Averages
This is a sea of red and yellow.  Be cautious   It may not look pretty, but the uglier this chart looks prior to a reversal, the better that reversal will be.  Watch volume closely and seek out the bottom if possible.  In my opinion phased entry at these levels is a decent strategy.