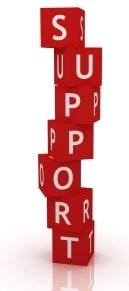 Well, SiriusXM is now sitting in that position where it may have peaked (short term) and may be consolidating.  It was a dynamic that I spoke of yesterday in the technical update.  I had stated that if the volume dries up that we could see this happen.  Volume dried up.  Sirius XM traded 42 million shares, which is lower than average and lower than yesterday.  The quandary we have now is whether the equity has topped in the short term, whether it will consolidate, or whether it will retrace.  Is it just me or did I just cover every base?  Yes, I did cover every base, but now it is time to assess the likelihood of each one, or at least the mechanics of each base.
With a new but weak support level at $2.66, the next safety net is at $2.60.  Resistance is now at $2.75 and the $2.80.  As you can see SiriusXM is sitting right in the middle.  If we look at volume we get a bit of a hint.
Volume
SiriusXM traded down on low volume.  It did test $2.75 in pre-market, but from that time forward it was indicating that there would not be enough volume to make any real threat to $2.75 again in the session.  I would have liked to see SIRI hold $2.70, but that did not happen.  Tomorrow is confirmation day.  Tomorrow will give us the sign of the next direction.
What we want to watch carefully is the direction at open tomorrow, and the volume that it happens on.  I would bet that the initial direction of the day will indicate the direction the equity will close at. If we are consolidating, and I think we are, I want to see $2.66 hold.  If $2.66 passes the next stop is $2.60.  Neither of these will be the "end of the word".  I would venture to say $2.66 is in the cards.

For active traders I can see a few strategies, but all of these are very sensitive to news, so bear that in mind.  A buy order at $2.62 could well get filled in preparation for a run leading into Mel speaking next weak.  A sell order at $2.69 should be prepared to buy back at $2.71 (a loss) on a turn around tomorrow in early trading.  As you can see,l it is a tough call.  You have to essentially gauge the potential of a dip to $2.62 vs. sideways consolidation.  Is the 7 cents worth it?  That is a decision each investor needs to make for themselves.
Support and Resistance
As I indicated above, we do have a  new but weak support level at $2.66.  In fact, it is almost not even there.  What will make this level more substantial is SiriusXM holding above that price point.  What I see forming is a consolidation battleground between $2.65 and $2.75.  The chart below highlights that in yellow.  This is a wider range than we have seen lately, but as long as $2.60 holds, we should all have a comfort level.  Remember though, there is actually little resistance above, though I have now given a little bit of strength to the level at $2.75.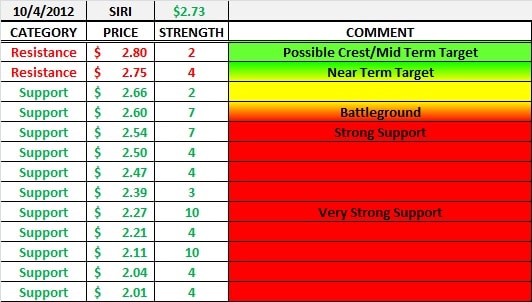 As usual, watch the volume closely at $2.66 and at anything above $2.70.  This equity sort of wants to build a support level at $2.70, but there is trepidation still.  The biggest impact here will be news and sentiment.  We have to consider that SiriusXM is at 52 week highs, and people enjoying the run were looking foir the top before selling.  The action today would support a sell by a trader, and if there is a large number that see the top, the equity could tumble.  This is why I see $2.60 in the cards.  Again, news could invigorate buyers, so be ready for that.
Exponential Moving Averages - EMA's
The EMA's are still bullish, and the gaps between successive averages in tact.  We are still seeing the 50 day climb, so that is positive.  Although the support at $2.66 is weak in the S&R chart, note that it corresponds with the 5 day EMA.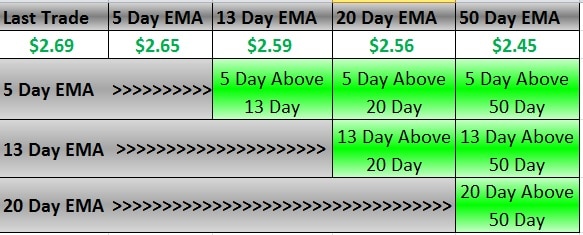 The key here to remain bullish is for SIRI to close at a minimum of $2.60.  That leaves wiggle room and is why I see a possible dip to that level.  Stay tuned, with tomorrow being Friday things could get interesting.