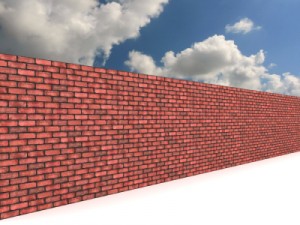 Wow...What a day.  223 million shares changed hands and over 150 million of those happened prior to the Liberty Media Event even starting!  Before going any further I must state that I am bullish about SiriusXM in the mid and long term.  You are not a SiriusBuzz Premium member to hear the cheer leading or the boilerplate positive outlook we have all heard several times from management in 2012.  With that out of the way we can get down to business.
Was there anything that happened today that you would say was unexpected?  NO
Is there anything that happened today that should have compelled people to buy shares en mass?  NO
Were the bulk of those shares bought in anticipation of what would be said today at the conference?  YES
Do you see the dynamic here?  This is why I believe that a pullback will happen.  The situation is normal, but expectations were high.  What happens when someone has high expectations and does not get those expectations met?  They are disappointed.  Today was filled with speculators.  Speculators place a bet, wait for the action, and then walk away satisfied or disappointed.
Volume
Volume was an impressive 223 million shares.  Much higher than average, and much higher than yesterday.  You will now see another reason why volume is so important to watch.  If SiriusXM did not break $2.75 on 223 million shares, how many shares do you think it will take to bust through and hold that line?  Currently that number would be quite high.  Is it more realistic to let this biig meal today digest and pass and then set up another run?  That is what I see happening.  This equity could test $2.80, but I see it trading back down for a brief spell as it resets itself and then moves back up.

What we want to watch for is what type of volume we see tomorrow.  If I was an active trader I would be watching closely and looking for the first sign of weakness to go short.  In fact, I would have shorted right after Mel announced the sub number.  That is what we are dealing with at these levels.  I do not see anything compelling to drive this up in the near term, but I see many compelling reasons to be a seller.  Ask yourself this...Would you be interested in buying my shares for $2.75 right now?  If the answer is no, then you likely have some trepidation for the near term.  That does not make you a bad person, and does not mean you are a bear.  It simply means that you likely feel that SIRI has not quite yet grown into current levels.
Support and Resistance
The same battleground exists.  What we would actually like to see is SIRI crest at $2.80 before retracing a bit.  If it can do this it helps to set up the next run.  There is a virtual wall at $2.75 right now and sentimentally it is strong simply because it has not been passed.  Just peaking above will build proverbial courage for the next run.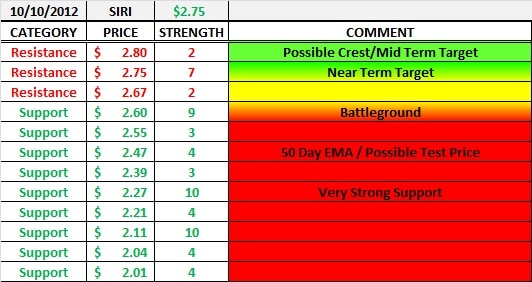 The key levels to watch are $2.75, the crest,and then $2.70.  I do not see SIRI running down to $2.60 tomorrow.  I do see it drifting lower after the exuberance of today wears off and the company enters its quite period prior to the call.  We could see another build-up prior to October 30, and we will be able to identify that by watching volume.
Exponential Moving Averages - EMA's
The EMA's remain strong and our caution flag is now gone.  We have wiggle room to close anywhere above $2.66 and remain all systems go.  The good news is that the 50 day moving average that is my low side caution is moving up.  If it can get to $2.57 prior to SIRI drifting below $2.66, I see that as very positive.  As stated, I do not mind testing the 50 day average, as I see it as healthy and allowing this equity to reset for another run.  Mid and long term I remain bullish.  In fact, very bullish.
Essentially the EMA's are strong.  Just watch the gaps between the levels and watch the 50 day climb.
Summary
If you are a buy and hold person you have the luxury of sitting back and enjoying the ride in a pretty stress-free manner.  If you are a trader, you have some issues to watch for and contend with in the coming weeks.  If you try to call out exact tops and bottoms you will just get frustrated.  Use the action and data to work with your instinct.  Stay Tuned!