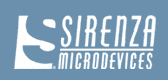 Sirenza Microdevices is a company that followers of the satellite radio sector like to keep an eye on. The company has business in the satellite radio sector, but is also highly involved in other business. This makes Sireza Microdevices an attractive play for those that want to participate in the satellite radio sector, but want some security in the fact that Sirenza also derives substantial business from other sectors such as television, cable, etc.
This week Sireza participated in the International Microwave Symposium in Hawaii. At that event Sirenza announced a production release of a two stage MMIC amplifier called the SUF-6000. The device offers an alternative to the market and can be used in test equipment, defense, point-to-point radiop as well as aerospace.
In addition, Sirenza announced the expansion of their manufacturing capability at their facility in Nuremberg Germany. This move substantially upgrades the ability of Sirenza to expand markets for RF power amplifiers.
Position - Long Sirius, Long XM, No Position Sirenza