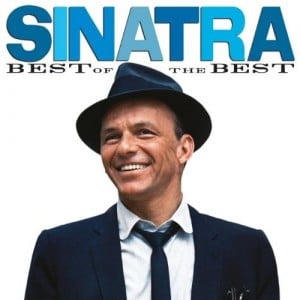 Every once in a while there is an iconic figure who transcends an industry in such a way that they simply carry a lasting impact for generations.  Frank Sinatra has been entertaining music fans for decades and will continue to be a relevant musical figure for generations to come.  This Tuesday a collection of Sinatra classics like no other will go on sale.  While it may seem easy to make such an album, the fact is that with differing rights holders it was a small miracle to get this release done.
"Sinatra: Best Of The Best" brings together Reprise and Capitol Records, and for the first time we have a single album that spans the length of Sinatra's career.  Previously Sinatra albums have been era specific.  This album has literally been in the works in one form or another for almost a decade.  With various entities holding various rights, it should not come as a surprise that the album has taken time to become a reality.
An event like this deserves special attention, and that is where Sirius XM steps in.  Known for providing some of the most compelling content on radio, and already having a Sinatra channel of their own, it makes perfect sense that the satellite radio provider bring subscribers some exclusive content that simply is not available anywhere else.
This past Saturday Sirius XM had  Frank Sinatra Jr. walks subscribers through selections from the new compilation album, Best of the Best, featuring many legendary performances by his father. The special hour of programming featured Frank Jr.'s intimate memories and delved into his consummate knowledge of Ol' Blue Eyes himself.  If you missed the show, fear not.  Sirius XM will be offering rebroadcasts:
Monday 11/14 at 12 pm ET
Tuesday 11/15 at 10 am ET
Wednesday 11/16 at 3 pm ET
Friday 11/18 at 7 pm ET
Saturday 11/26 at 10 am ET
Thursday 12/1 at 2 pm ET
Friday 12/9 9 pm ET
Monday 12/12 at 8 am & 8PM ET
Wednesday 12/14 at 5 pm ET
Tuesday 12/20 at 8 am ET
Saturday 12/24 at 11 am ET
Friday 12/30 at 4 pm ET