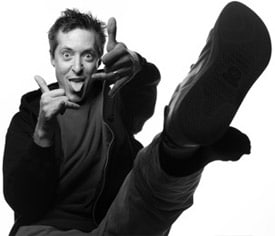 In recent weeks there has been speculation as to what would happen with Scott Ferrall, who has been comfortably enjoying his 8 o'clock slot on Howard 101 for the last couple of years. Sirius announced today that the edgy sports commentator would be renewing his contract, and will remain on the Howard Stern channel.
"Scott Ferrall thunders through the world of sports at a hundred miles an hour every weeknight on SIRIUS, telling it like it is and letting his fans do the same," said Scott Greenstein, SIRIUS' President, Entertainment and Sports. "He remains the perfect fit for the Howard Stern channels."
"I work for Howard Stern, 'The King of all Media,' and SIRIUS Satellite Radio," said Scott Ferrall. "I couldn't walk away from the revolution -- it's too much fun."
On Saturday, April 26 Ferrall will host a special live broadcast from NFL Draft Fan Central outside Radio City Music Hall in midtown Manhattan. This one-time show will air from 3:00 - 4:00 pm ET on Howard 101 and will feature Ferrall in front of a live audience talking directly to fans in attendance as the 2008 NFL Draft kicks off.
It should also be noted that Ferrall is set to make his feature film debut in Redbelt, the mixed martial arts drama written and directed by David Mamet. In the movie Ferrall plays who else? Himself, an opinionated loud mouthed sports broadcaster. Redbelt premieres Friday, April 25 at the Tribeca Film Festival in New York City.
For those of you who still don't know, the Scott Ferrall Show airs live Monday-Friday from 8:00 pm - 12:00 am ET on Howard 101.