The NPD data for March 2008 has been released, and the trend at retail is seeing improvement. For the first time in many months, one of the satellite radio companies saw less than a double digit decline in year over year comparisons. The NPD Group is the leading global provider of consumer and retail market research information for a wide range of industries. They provide critical consumer behavior and point-of-sale (POS) information and industry expertise across more industries than any other market research company.
March NPD retail is seeing both sector and individual improvement. The news is encouraging considering that the retail sector has been seen as a relative weak point in satellite radio. Getting to a consistent point that is measurable is a key to understanding where satellite radio as a concept is headed. The retail channel also offers insight into the minds of the consumer, as these radio sales are consumers who actually seek out the product rather than simply having it come as a feature in their car. Additionally, with no new receivers in the pipeline, this data starts to give an indication that is more free of existing subscribers simply "upgrading" their receivers.
The NPD data for March will likely be viewed in a positive light by the street as well as analysts, as the trend has improved substantially over the past three months. January's NPD showed sector down 40%. February NPD had an improvement although sector sales were still down 17%. Now in March, sector sales are down 14% 11%. For Sirius the drop in year over year was only 8.7% 3%. This represents 31 consecutive months that NPD has shown Sirius to have a larger retail share than XM.

NPD MARKET SHARE MARCH 2008
Sirius - 61%
XMSR - 39%
YEAR TO DATE NPD MARKET SHARE 2008
Sirius - 63%
XMSR - 37%
Q1 2008 NPD MARKET SHARE
Sirius - 63%
XMSR - 37%
YEAR OVER YEAR COMPARISON (MARCH 2008 vs. MARCH 2007)
Sirius - Down 8.7% 3%
XMSR - Down 21.8%
Sector - Down 14% 11%
MONTH OVER MONTH COMPARISON (MARCH 2008 vs. FEBRUARY 2008)
Sirius - Down 3% Up 3%
XMSR - Up 23%
Sector - Up 6% Up 10%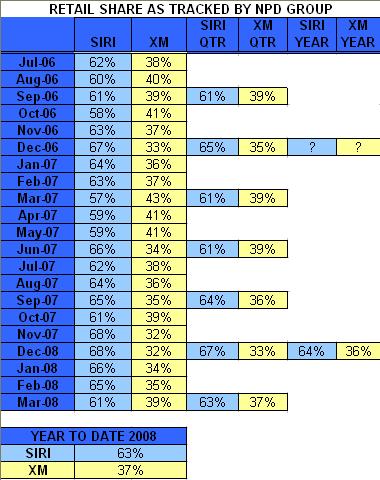 Position - Long Sirius, Long XM