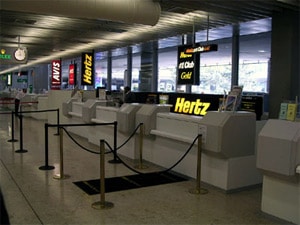 As many are already aware, some rental companies offer satellite radio as an option.  If you have never done so, take them up on the offer the next time you rent a car.  For existing satellite radio consumers, you will get all of the content you are already used to, and for those that have never tried it, it is a great way to expose yourself to the service.
I travel frequently, and in fact drive rental cars more than my own car.  In any given month, I will drive as many as four different cars.  This gives me a chance to see what different manufacturers have to offer, as well as allowing me to see the various satellite radio set-ups offered.  Believe it or not, not all factory installed satellite radios are created equal.  Depending on the model of car you rent, it is possible that you will not even be aware that your car is equipped with a satellite radio.  Take a few minutes to play with the buttons on the dash and see if the car has satellite.  If your are lucky, you may even get a car with an operating satellite radio that you don't even have to pay for.
Another thing to look for is a car with an AUX INPUT.  This input will allow existing subscribers to bring their own radios, as well as give you functionality with the soon to be released SkyDock from Sirius XM.  I have a custom set-up from TSS-Radio that lets me bring my Stiletto with me as I travel.  The TSS-Radio solution incorporates a standard antenna with a small whip and suction-cup mount.  I simply plug the stiletto dock into the AUX INPUT, insert my stiletto,  and I am good to go.  Instant satellite radio in virtually any rental car.
For those that rent cars often, you are well aware of the pros and cons of each rental company.  If you are not a frequent renter, here are some tips to make your experience better.
1.  Make as many arrangements as you can prior to your arrival.  This would include seeing if satellite radio is an option.
2.  Know the categories of cars you are looking at.  A "Midsize" car may differ between the rental companies, and typically the bigger the car, the more options it has.
3.  Ask if you get to choose your car.  Some rental companies simply allow you to walk down an aisle of cars and make your selection.  This allows you to look for that all important AUX INPUT.
4.  I tend to "pre-buy" my fuel.  Yes, filling the car yourself saves money,  really worth missing your plane over?  After years of renting, I have arrived at the conclusion that I would rather spend a few extra bucks for the convenience of simply dropping off the car instead of having to fill it up.  Besides, that is one less receipt you need to save.
5.  Don't forget to remove your gear from the car.  I have left cell phones and chargers in cars, and it makes catching that plane a more stressful situation.  I have yet to leave a satellite radio behind though.
Travel is a fun thing, so make sure you keep your creature comforts like satellite radio with you when you travel.  With the launch of the iPhone and iPod Touch app's and the SkyDock, some of the tips above will become even more important.
Long SiriusXM Radio