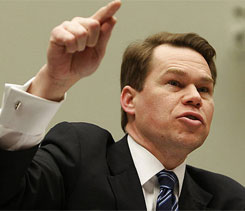 Only a bit over a week after their convention in Las Vegas, the National Association of Broadcasters President and CEO David Rehr has resigned. Rehr was at the helm of the NAB and staunchly against the record long merger process of Sirius and XM. Additionally, Rehr and the NAB are in the midst of a performance royalty debate that could potentially have terrestrial radio paying royalties when they broadcast music.
Rehr's time at the NAB encompassed the emergence of competing forces such as satellite radio, Internet radio, iPods, and other entertainment options for consumers. Over the past five years, the valuation of radio companies has taken a substantial hit. While Rehr will forever be connected to and associated with the contentious satellite radio debate, he was also instrumental in setting NAB policy and strategy for the membership of the NAB to navigate through what could only be termed as tough times.
In announcing his resignation Rehr stated, "I have enjoyed leading America's broadcasters through this time of change and challenge. Our efforts to educate America about the digital television transition have been enormously successful, and our effort to reinvigorate radio through the Radio Heard Here campaign is positioning radio broadcasters well for the future."
David stated that he plans to continue in his current role during a transition phase, and during that interim period, Janet McGregor, NAB's chief operating and financial officer, will work closely with Rehr and assume day-to-day duties until a successor is named.
Strangely, the resignation announcement did not include any comment from NAB Executive Vice President Dennis Wharton, who has been very active in the NAB over the past year. The announcement missing any mention of Wharton may be an indication that the NAB Board of Directors is seeking an entirely different direction.
Position - Long Sirius XM Radio