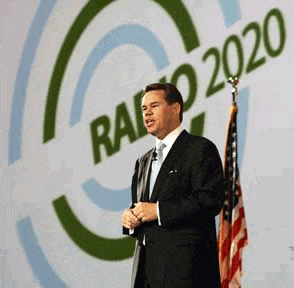 In a speech today at the NAB Radio Show, David Rehr stated that the term "terrestrial radio" does not accurately define radio. According to Rehr, radio is much more than that:
"We find ourselves in the midst of an exciting and dynamic period for radio. With new digital technologies, radio is on the verge of reaching greater heights and becoming more relevant. And we must realize that the words we have been using to define us no longer work. We've been using the term "terrestrial radio." But that doesn't mean anything to consumers. Nor does the term accurately define radio. As you know, radio reaches more than 233 million people in America each week. So, what does "radio" mean to America? Answering this question is at the very heart of why we're all here today. We have to get to the bottom of this question if we are to raise radio's image and remind listeners why it's so important."
Interestingly, Rehrs argument also illustrates how the audio entertainment landscape is morphing. It illustrates several things that apply to satellite radio as well as terrestrial radio. It is compelling that traditional radio is at a point where they are trying to determine their identity. This simply shows that they are in a phase where many new offerings are coming to fruition. Not surprisingly, traditional broadcasters find themselves broadcasting not only in their traditional markets, but over the internet, over cell networks. The footprint of a traditional radio station is no longer limited to a small radius. These types of comments and realizations demonstrate that they very definition of the marketplace has indeed changed, and that is exactly what the DOJ and FCC need to consider.
The NAB wants to reignite radio. They are Launching the Radio2020 campaign. They want to demonstrate their value in an ever changing marketplace. They want show that they can be, and already are more than "terrestrial radio". Kudos. That is exactly what merger proponents have been pointing out all along.
I have at many times over the past couple of years written that many in the NAB want the status quo. That they are hesitant to acknowledge that changes are happening, and that they have been slow to adjust their business models. I give credit to Rehr for recognizing this, but still wonder whether the membership of the NAB is ready for these changes. Consumers are at a point where they expect and demand MORE from audio entertainment providers. They want access to quality programming, and are demanding that the product they give their attention to be delivered in a manner that does not clutter their day with needless banter and long commercial sessions. Consumers are reaching out for other mediums that they feel are BETTER at delivering what they want.
The challenges for the NAB members face are not simply the merger, or royalties. The challenge is whether they recognize that the consumer is seeking alternatives. The challenge is delivering a product that people want. They can fight merger battles, royalty battles, and lobby to their hearts content, but unless they deliver a desirable product, they will not gain very much.
So, is it terrestrial radio, or something more? The answer to that question is not made by "educating consumers". The answer will be defined by the product that is delivered.
Position - Long Sirius, Long XM