It never ceases to amaze me how this equity can do the darnedest things.  All day Sirius XM is trading is a great technical area, and the BAM! At the close the stock gives up two cents and closes at $2.54.  Okay, here are my initial thoughts.  There was strength in the fact that SIRI was holding a proverbial line, but weakness in that it was on lower volume.  The equity did not even try to test $2.60.  Believe it or not, I was actually quite comfortable with that.  I actually want to see some consolidation before another move.  Volume was higher than average, but weaker than that of the run.  This tells me that there was not enough steam to make a move, but there was enough to keep it in place.
By the way, the good news is that I was able to recover my data, and now have a new computer to work with.  Sometimes things happen for a reason.   Members that have sent their shipping addresses should be expecting their DVD of Radio Wars any day now.   We appreciate all of your support here at SiriusBuzz Premium!
Volume
With 61 million shares traded here, today was a healthy day.  We all tire after a big sprint, but that does not mean we collapse.  The weekend is now here, and we can all take a break and await a new week with a fresh start.  As always, it promises to be interesting.

What we want to watch for now is how Sirius trades Monday and on what volume.  Essentially we have a new trading range between $2.50 and $2.60.  Sirius XM is right in the middle.  It can trade either way (within that range), and the longer it trades within this range the more the proverbial spring will coil.  This is where news comes into the equation.  consolidation is good at building a foundation from which to build on or jump off of.
Support and Resistance
The action today offered some clarity here.  I now have very strong support at $2.51 and moderate resistance at $2.60.  This is the opposite of what we were seeing and I was cautioning about just before the drop into the $2.30's.  As long as SiriusXM bounces off of $2.51, it can build strength there.  If the trading range is narrow, we could see resistance at the mid $2.50's come into play, but at the moment it is off of the map.
What we want to see is Sirius XM test $2.60 on decent volume.  If volume is lighter we can chalk it up to consolidation.  Support at $2.51 is very strong, so we want to see it bouncing off of that if it dips.  Remember though, each time it tests a level it actually is demonstrating an ability to break it under the right circumstance.  News flow is now key.
Exponential Moving Averages - EMA's
We have gone green!  All danger flags are removed, and we are actually seeing the beginnings of separation between the averages.  While this is still tight, the overall trend is still in tact.  If you recall yesterday I stated that a close at $2.54 would provide a bit of wiggle room.  That is exactly what we saw.  It is uncanny how SiriusXM gravitates to these technical levels!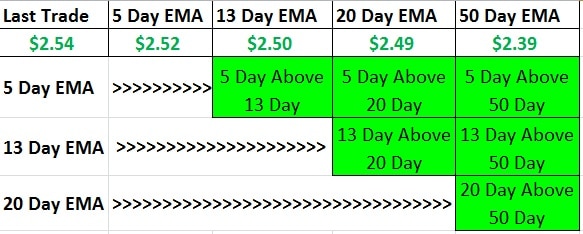 What we want to see is Sirius XM work its way higher.  Another close below $2.54 would tighten up the averages between the 5 and 13 day, and we want to see this widen a bit.  I want to call your attention to the 50 day average.  That is now approaching $2.40, and is an insulator support level.  As this moves up, it means that we have a technical reason to stay above it.
Summary
Is $2.75 a dream now?  Not exactly.  As I stated, any news could propel this equity past $2.60, and there is no resistance above.  In my opinion, the sooner we get some guidance on 2013, or an upgrade on 2012 subscriber guidance the better.  We could well be in a consolidation mode, and as I said, that makes us sensitive to news flow.  The strength at $2.50 / $2.51 is good, so simply watch behavior and watch to see if the equity is starting to coil up.
Have a great weekend!