I hope you all had and enjoyed the holiday weekend.  Yes, the market was open on Christmas eve, but nothing significant happened and volume was very light.  It makes for a short week that will be followed by yet another long weekend.  This could create some swings, but the real action is going to be in 2013.  However, that does not mean that we ignore the technicals or data.  We need to stay on top of these things in preparation.
In theory, SiriusXM is supposed to launch personalized radio sometime this week.  While it will fulfill a promise made by the company, it will be launched in a week when many are not even looking at the market.  Personally (no pun intended), I would rather they wait for an event like the consumer electronics show in January now, where they can get a little marketing bang for the buck.
Volume
On Christmas Eve we saw very light volume of only 156 million shares traded.  It may not seem like a big deal, but the time off has allowed the volume needed for a bold move to reset a bit.  In my opinion a bold move can now happen on as little as 75 or 80 million shares rather than the 100 million shares it would have taken a week or so ago.

What we want to watch for is how the much volume is happening at key levels like $2.90, $2.95, and $3,00.  Many signals are looking bullish and we could actually see a test of $3.00.  If we do test $3.00 and fail, then $2.90 becomes even more important.  If that level breaks, we have a trip (I believe a brief one) into the $2.80's.  That is what I will be waiting to buy in on in my mock account.
Support and Resistance
The levels here are essentially the same.  Bear in mind that we have little resistance above other than psychological, however, that can be quite strong.  SiriusXM currently sits right on the technical $2.95 level that will act as either support or resistance depending on the direction of the equity.  I have a gut feeling that $2.95 will act a lot like $2.75 did a couple of weeks ago when the equity would move beyond and then dip below a key level several times before finally making a move.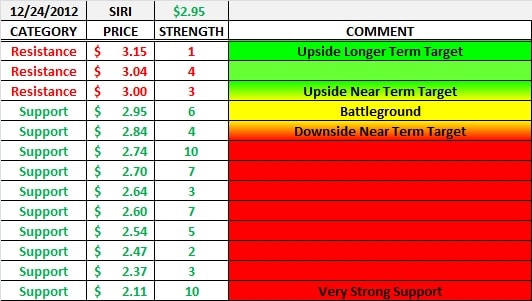 The good news is that the company is performing well, and there is a bullish bias.  The key levels to watch for are $2.90, $2.94, and $3.00.  Watch the volume at these levels and whether or not the equity can test beyond these levels.  The equity can make a break in one direction or another, but currently I feel that it has a 10 cent leash on it.  That means the low side is $2.85 and the high side $3.05.  However, the equity also feels more comfortable with a 5 cent leash in either direction.  A savvy trader can make a nickle or so on this, but the betting at the wrong time could have you chasing the stock and playing it wrong.
Exponential Moving Averages - EMA's
The EMA's look promising with bullish signals across the board.  The only real caution in the cards is a close below $2.94, only a penny away from the close on the 24th.  Should that happen it will put up a caution flag.  As I said, the equity could behave like it did in the mid $2.70's.  This would bring on cautions one day only to see them removed the next.  The good news is that the EMA's are moving up.
SIRI tends to trade between the 5 and 10 day EMA's on a regular basis, and every once in a while test the 50.  On more rare occasions it can test the 100 or 200 day EMA's, so seeing these rise is good.  Currently the 100 day EMA is at about $2.65 while the 200 rests at $2.45 or so.  With SIRI above all EMA's for the last few trading sessions the signals are all bullish.  We want to see if it can remain above them for another leg up, or will close below them to set up a new range.
Mock Account
I have 500 core shares in the mock account and just above $1,400 cash.  The cash is waiting patiently for the right signal.  That signal is what happens at $2.90 or $3.00.  My preference is to buy back in on a dip, but I do not mind buying the beginning of a run either.  If the equity passes $3.00 on volume I will be a buyer.  If it dips into the $2.80's I will be a buyer (watching the volume of course).  If it bounces off of $2.90 I may be a partial buyer.  I will gauge that if it happens and post a bullet point to the effect.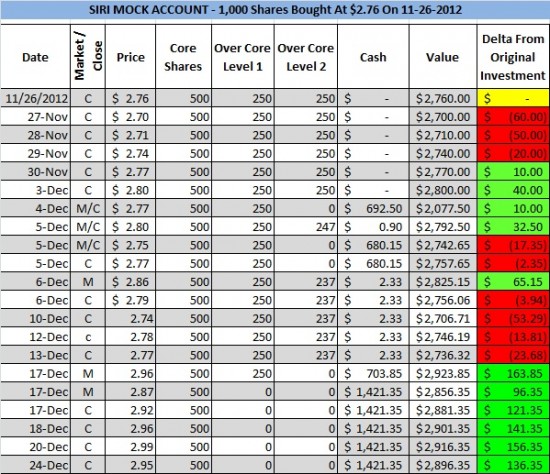 Stay Tuned