While it may not seem like much, that penny we were up today is a decent sign that we could indeed be at the bottom, or at least that we are looking much safer than we were a couple of days ago.  SiriusXM held the line on $3.70 and bounced off of the 100 day EMA.  Yes, we added a warning flag, but I warned you of that yesterday.
What we want to look for now is the equity to finish consolidating on volume in the 20 millions.  At that point we should be able to start the process of seeing warning flags disappear.  From a traders standpoint you are now on the sidelines with cash just waiting for that first warning flag to give a signal.  I am not putting a yellow signal on the 13/20 day EMA yet, but we need to consider it as something to watch.
It appears as if we are going to see full consolidation of the EMA's somewhere in the mid $3.80's.  In my opinion the move from that point is upward, but not a rocket-ship.  The next big resistance point is $3.80.  After that, $3.85 will be a challenge.  We will likely have to knock on that door a few times before breaking through.
Be sensitive to the overall market.  In the absence of anything compelling, SiriusXM will reflect the overall markets in many ways.  We should see an update on the launched satellite soon, an update on the acquisition, and an update on a Liberty sale.  October auto sales are also on tap.
There are many new members, some extremely new, so before the charts, I want to give another service notice.  If you were not aware, I will be getting married on November 9th, and for obvious reasons, coverage will be interrupted for a bit.  I am offering up an opportunity for readers to adjust their membership fees because of this.  Everyone so far has been very cordial, wished the bride and me well, and will simply continue.  Thank you very much for that.  Below is a chart of what coverage we will have.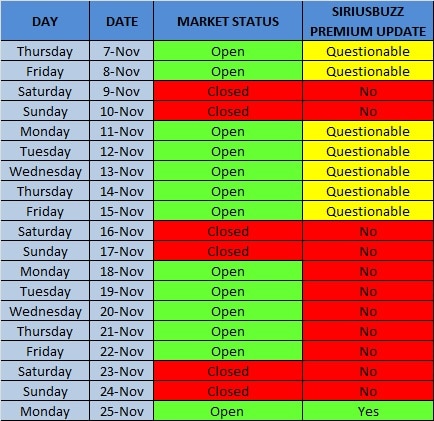 If you would like to have your membership adjusted, please send us an email and we will work with you.  As you can imagine, I am in crunch time on wedding plans, so if you could send any requests by this Friday, it would be greatly appreciated.  Again, a special thank you to all that have extended warm wishes.  A big wedding is expensive, so gifts graciously accepted to my paypal email satellitestandard@gmail.com (just kidding).
Now to the charts:
Volume

Support and Resistance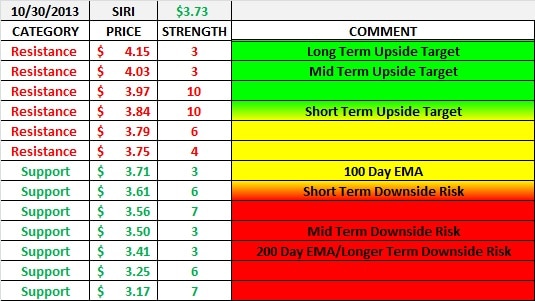 Exponential Moving Averages