Sirius Buzz sponsor TSS Radio has informed us that the Polk MiDock Portfolio is now available to consumers. The $129.00 device has been anticipated since late last year, and gives any Stiletto user the ability to get great sound from dock that folds up for easy portability. The unit includes interchangeable adapter sleeves for Stiletto SL100, 10 and SL2, indoor/outdoor home antenna with 21' cable, and AC power adapter.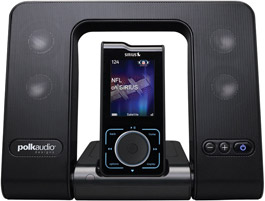 MiDock Features:
-Compatible with all Stiletto Products
-Dock folds flat for travel
-Runs on AA batteries or AC power
-High-resolution micro-speakers
-Bass enhancement circuit for improved sound
-Auxiliary input and headphone jack
-SMB antenna jack
-Powered speaker system
-Charges Stiletto when docked into an AC outlet
Also newly available is the Sirius Connect Vehicle Dock and Home Dock with similar functions and form factor.
Position - Long Sirius