As expected we saw a pop in SiriusXM today on the conference call.  The call was good and the company is performing well.  The best news out of the call is bitter-sweet.  The company has bought back 209 million shares and the $2 billion share buyback is now about 30% complete, yet that activity did nothing to bolster the recent share price.  As yet, these shares have not been taken out of the float.
The key here is to now watch volume closely.  SiriusXM traded 127 million shares today, an impressive sum given the more anemic trading we have seen lately.  What we want to see now is if volume holds up or if it begins to taper off.  If there is a combination of the stock price moving down with lower volume then we would likely be looking at a peak.  The equity will inevitably back off from a run up.  The question is how far.
Because the equity did not break through and challenge $3.30 today does not mean that it will not happen.  However, it is now more of a challenge.  In my opinion, if this equity goes down below $3.20 on lower volume, then it will test at least $3.15 and perhaps $3.10.  If you feel like gambling, the close of $3.25 may be a good sell point to take some profit and await a retracement.
Volume
The pop up on volume was great.  Now watch it closely for hints on direction and strength.  If volume crests, look for the equity to crest.  What we need to consider is the upside and downside potential.  To the upside, this equity needs to test $3.30 on heavy volume similar to today.  If it tests that level on lighter volume it will not have the strength to hold it for any real length of time.  If that happens the equity needs to retrace and reset.  If volume crests and the equity begins to tumble from here, then we want to identify the bottom.  The first step is $3.18.  The second step is $3.10.

Support and Resistance
Support and resistance is getting interesting.  There is little technical strength above current levels, but sometimes sentimental hurdles develop.  Passing a 52 week high is just that type of hurdle.  Support below lacks real strength, so this equity will need to find that strength by range trading if it drops.  I suspect $3.18 will be a key level.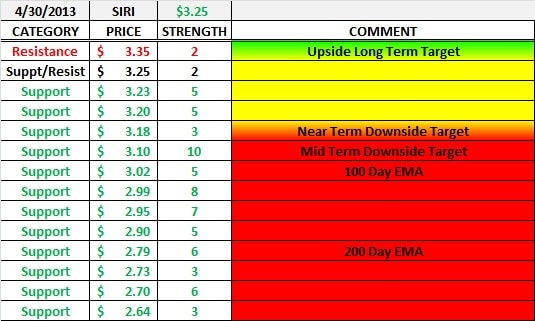 Exponential Moving Averages
The EMA's are all green and all bullish.  With the action today there is plenty of room for some action before any real caution or warning flags develop.  Stay tuned and watch volume here in the short term.