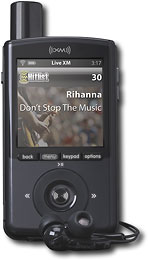 I just got my fall edition and as the title suggests, the new XMp3 is on the cover of Crutchfield's catalog. Page 20 is devoted to Sirius and page 21 to XM. The XMp3 takes up nearly a third of the page. Crutchfield writes:
"Pioneer combines the best of both worlds with the XMp3, giving you XM Satellite radio and MP3 playback in one portable device. It's built-in antenna receives a live XM signal, while a microSD slot lets you play back up to 8GB of your favorite MP3's.

You'll enjoy the options for recording up to 100 hours of XM programming. XM2go Music Manager software helps you organize your recorded content, and lets you schedule recordings. In addition to recording single songs or blocks of programming, you can set the XMp3 to record up to 5 channels at the same time. That'll come in handy if your news program, celebrity interview and music special all happen to air during an important ballgame. It's like a DVR for your satellite radio. You'll always know what's coming up on your favorite XM channels, too, thanks to XM's online and built in programming guides.

Like a song you hear? One-touch recording lets you tap a button and save it into the XMp3 radio's memory. With TuneSelect and GameSelect, the XMp3 tells you when your favorite songs, artists or teams are playing on another XM channel.

And it's no problem if your interrupted during one of your favorite programs. The XMp3 lets you pause, rewind and replay up to 30 minutes of live XM, so you'll never miss a beat.

The XMp3 comes with a home kit, so you can enjoy it through your home stereo or connect it to your computer. Add an additional car kit to play it through your vehicles stereo."