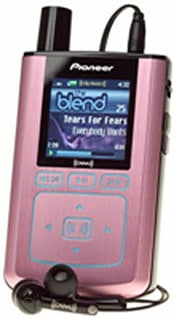 What do you get that special someone for Valentines Day in 2008? XM is making that decision easy with a $149.00 Pink Inno. When initially launched in September of 2006, the Pink Inno had some proceeds donated for breast cancer awareness. At that time the Pink Inno sold for $350.00, and $150,000 worth of donations were the established goal.
Now, 18 months later XM has found a new marketing strategy for the Pink Inno's and that is Valentines Day. Sales of the Inno were never as brisk as the company had anticipated, and the Inno is still the flagship portable unit for XM, which has not launched another portable since. Speculation that a new XM portable will be released this year is all but certain. Likely the company will launch their new portable sometime between Fathers day and Summers end.
At $150 for a top of the line receiver, the Pink Inno is sure to get some takers. If Pink is not your thing, the cost of an Inno is $199.
Position - Long XM