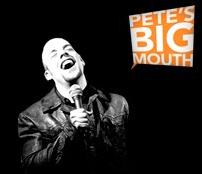 Sirius' new Indie Talk Channel is beginning to fill in their daily schedule with the addition of Pete's Big Mouth in afternoon drive (show starts at 2:00 eastern). Today marked the second day of the new show featuring comedian Pete Dominick. Dominick who already hosts a couple of shows on Sirius' Raw Dog Comedy (channel 104), now gets to bring his brand of politics to Indie Talk.
Listening to the show today, I was impressed with the ability of Dominick to step outside the comedy element, and get into what is often much more serious issues. Comedians do carry the ability to look at issues from a differing perspective, so it is no surprise that Dominick can fill a show and be compelling. My surprise was that he had no need to fall back on comedy as a safety net. Dominick is a welcomed addition to the channel, and a great contrast to Ron Silver.
At this point the missing component on Indie Talk is a morning drive show. In my opinion, Vinnie Politan is a natural, and the bonus would be that he would not even have confusion about the channel number since his old home was Sirius 110 anyway.
Congratulations to Pete Dominick for bringing a quality show offering to the table.