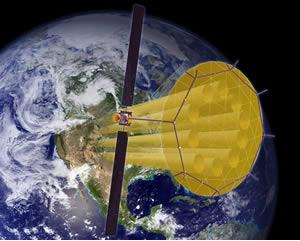 Mobile Satellite Ventures (MSV), Chaired by XM's Gary Parsons, has received the green light on their petition for declaratory ruling with the FCC. The FCC announced the decision on March 7, 2008. In effect, a ruling regarding the level of foreign ownership that will be allowed is the issue at hand.
For sector watchers who have followed the SDARS equities for some time, the involvement of Parsons as Chairman of MSV is old news. The interesting thing about MSV is that they are tapped into markets that may in some ways compete with the business plans of SDARS in the coming years. Their strategic plans involve partnerships with telecom and media players, existing network operators and technology players.
As the lines in information, audio, and video entertainment continue to blur, it is incumbent to understand the players involved from a distribution standpoint. It has been said that the cost of entering the SDARS market is expensive, and that this prohibits other players from becoming competitors in a meaningful way. However, there are companies such as MSV that can cross over into a new realm of services with existing infrastructure in place. The cell phone and Internet will take on increasingly large roles in how consumers get audio and video entertainment. Whereas Sirius and XM carry licences for satellite radio broadcasts, and there is a limit to what these companies can utilize their bandwidth for, companies that offer high speed Internet services via satellite can give end users instant access to a wealth of content via the Internet on a national as well as international basis.
ABOUT MOBILE SATELLITE VENTURES
Mobile Satellite Ventures: Redefining Wireless Communications
- MSV is currently authorized to use approximately 30 MHz of coordinated North American spectrum in a terrestrial wireless network with an integrated satellite overlay to provide ubiquitous and enhanced services.
- MSV is working with leading technology vendors to develop this powerful next generation hybrid wireless network that will provide ubiquitous high bandwidth coverage in every market of North America.
- This network will utilize a powerful satellite constellation working in unison with MSV's patented ancillary terrestrial component (ATC) technology to deliver seamless wireless services to its end-users over standard wireless devices.
- MSV holds the first FCC authorization to enhance its satellite system with an ATC network.
- Currently, MSV is North America's premier provider of mobile satellite communications services, offering a wide choice of two-way radio, mobile data, voice and fax.
MSV NETWORK
The MSV Network infrastructure is made up of the following major components:
Current:
- 2 satellites: The MSAT-1 and MSAT-2
- A 24/7 Network Operations Center (NOC)
- MSV has 99.9% network availability, reflecting its quality systems, proprietary software, and staff
Next Generation Network Plan:
- MSV plans to launch a two-satellite configuration: MSV-1 (U.S.) and MSV-2 (Canada)
- Most powerful commercial satellites ever deployed, enabling multi spot-beam frequency re-use and communication with standard cellular handset when out of terrestrial coverage
SERVICE AND COVERAGE
Coverage Area
- MSV provides wireless communications on land, sea, or in the air across North and Central America, northern South America, the Caribbean, Hawaii and coastal waters.
Markets:
- Serves the following markets: Public Safety/ Homeland Security, Emergency Response, Law Enforcement, Military, Coast Guard, Trucking, Rail, Oil and Gas, Marine, Natural Resources, Utilities
STRATEGIC PLAN
- Select premier satellite system suppliers to embark on new phase of next generation ubiquity
Potential partners include: telecom and media players, existing network operators and technology players.
- Exploration of further international expansion
PATENT PORTFOLIO
- MSV has the most dominant ATC patent portfolio in the world:
- Earliest (1991)
- Extensive (approximately 100 ATC patent applications filed – over 20 approved)
- Broadest (all system components)
- Worldwide
MANAGEMENT TEAM
Gary Parsons Chairman
Alexander Good Vice Chairman, CEO and President
John H. Mattingly President, Satellite Services
Scott Macleod Executive Vice President, Chief Financial Officer
Drew Caplan Chief Network Officer
Randy Segal SVP, General Counsel
Peter Karabinis SVP, Chief Technology Officer
James A. Wiseman Vice President and Corporate Controller
Jennifer Manner VP, Regulatory Affairs
CURRENT INVESTORS
We are owned and controlled by SkyTerra Communications (OTC BB: SKYT.OB)
Position - Long Sirius, Long XM, No Position SKYT.OB