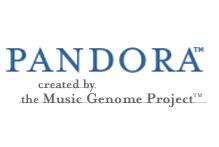 It is now official. Internet Radio music service Pandora has filed paperwork with the SEC outlining their intentions to go public later this year. It has been speculated for quite some time that Pandora would make such a move and now it is a reality.
The company stated on their SEC filing that they intend to raise $100 million. That amount can change as bankers must now see what kind of interest a Pandora IPO will bring to the street. If there is enough interest the numbers could change substantially.
Morgan Stanley and JP Morgan, companies familiar to Sirius XM investors, will be the bookrunning managers charged with placing an ultimate value on the IPO and pricing it.
Pandora boasts over 80 million registered users and "50 percent share of all Internet radio listening time among the top 20 stations and networks in the United States." The company had over $90 million in revenue through the first three quarters of 2010 but has yet to make a profit. It is possible that they turn a profit for 2010, but the company warns that they anticipate operating at a loss until 2012.
What many who follow Sirius XM fail to realize is that Pandora and other Internet radio services are shifting to a subscription model more now than ever before. Recent decisions by Last.FM to forgo the free service show that free/subscription models of Pandora and Slacker hold far more potential than a pure ad based service. An annual subscription to Pandora is about $36.
Internet royalty rates and high data usage are two challenges that Internet radio faces. The royalty rates can be overcome because the record labels renegotiated terms which have Pandora paying a per song rate or 25% of revenue, whichever is greater. High data usage is not as big a problem as most would have you believe. The typical Pandora user stays well below the 2.0 GB allotted by carriers such as AT&T.
The fact of the matter is, Pandora will see a cash infusion this year that will ensure they remain a viable competitor to Sirius XM in the future. The most likely timing of Pandora's IPO could coincide with Sirius XM's release of Satellite Radio 2.0. Depending on what Satellite Radio 2.0 entails, it could apply a lot of pressure to Pandora at a time they are seeking investors.
Position – Long Sirius XM Radio