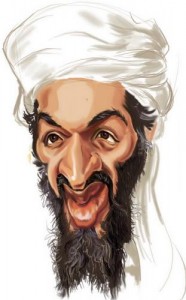 The news came across the wires yesterday, Osama Bin Laden Dead! The news rocked the world Sunday night and people were looking for more information on the subject. People tuned into televisions and turned on their radio's. The Internet was scorching as interested consumers wanted the latest news. For Sirius XM (NASDAQ:SIRI), this is a chance to shine.
Unlike some of their competitors Sirius XM offers news and talk programming. You will not find news about Bin Laden on Pandora, iTunes, MOG, or Spotify. Every once in a while there are news events that happen that override a pure music listening experience. The death of Bin laden is one such event. It also brings a renewed interest in the subject of September 11th. While Sirius XM certainly is not alone in their coverage of news, they do have a distinct advantage over some competitors which have now found their way into the auto dashboard via smart phones.
The death of Bin Laden will be the subject of the day at offices around the globe. People will want to tune in to get details. Sirius XM Internet Radio, as well as Sirius XM Satellite Radio will be a staple for news. One huge advantage Sirius XM has is their relationship with news outlets like CNN and Fox News. Sirius XM simulcasts many popular news television shows. This literally allows a consumer to start off their day watching the news as they get ready for their commute, and the unique ability to continue with that same coverage in their car. When a consumer does get to the office Sirius XM Internet radio can allow them to continue to get more news.
Many will find themselves tuning away from pure music services and seeking out solutions to get their news feed. I would venture to say that many users will access Sirius XM's news and talk channels for the first time in a long time, thereby "discovering" the breadth of content the satellite radio operator provides, and by extension gaining a new-found respect for the value a service like Sirius XM delivers.
The fact that Sirius XM delivers this unparalleled content likely will not be heralded as huge news, instead, it will be subtle. It will simply be better understood that Sirius XM is more than commercial free music and Howard Stern.