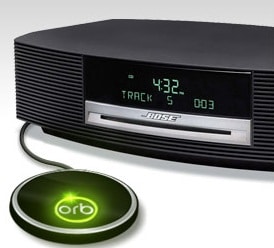 Internet Radio, whether Sirius XM, Pandora, Slacker or Last FM is becoming easier to stream on devices other than your PC. The evolution of smart phones brought Internet radio mobile. Now, with the introduction of Orb, the home stereo is easy to connect as well as affordable.
With a retail price point of just $69 the Orb has promise of being a viable solution for consumers to stream their music content over their home stereo. For people with an automobile subscription to satellite radio, the Orb allows users to get the great content offered by Sirius XM without the worries of running a satellite antenna. Orb delivers all of your great audio entertainment to the place you really want it. Through your favorite audio device.
The secret to Orb is that it relies on the iPhone or Android smart phone for control. This means that a great app developed by Orb allow streaming of great content from services such as Sirius, Pandora or Slacker is the user interface, while consumers can garner better sound quality by streaming though any home stereo.
Orb is a stellar example of what the future of satellite can deliver. There is a lot of debate of how Internet radio will get into cars. I have long said that the smart phone is the immediate route. Developments like Orb show what the potential really is. Setting up an Orb is fast, easy, and at just $69 reasonably priced.
You can learn more about Orb by visiting their website.
Long Sirius XM