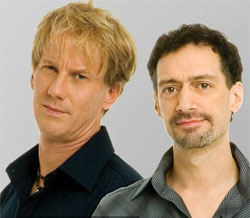 It went until the last possible moment, but Opie & Anthony have finally inked a deal with Sirius XM Radio. The duo announced their deal on the air this morning. The contract, rumored to be similar in terms to their original deal, will last for two years. Both Opie & Anthony stated that they had some frustrations during the negotiations but are glad to be on Sirius XM.
This is big news for Sirius XM as Opie & Anthony are exclusive content and have a very loyal fan base. Had they moved on to other options, they would likely have taken some of that fan base with them. The churn would not be huge, but losing the unique content would have been damaging going forward. One key to the success of Sirius XM is the depth and variety of audio entertainment. In this business you want to keep as many subscribers as you can, but getting new ones is extremely important. Having great and unmatched content is what attracts new listeners.
With the Opie & Anthony deal complete, the next hurdle for Sirius XM is Howard Stern. Sirius XM's CEO Mel Karmazin has stated that he wants to announce a status on a Stern deal prior to the company's third quarter conference call about a month from now.
Position - Long Sirius XM Radio