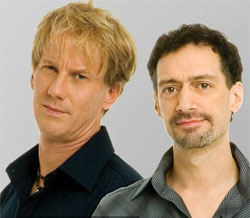 XM Satellite Radio has announced the return of Opie & Anthony. The suspension is scheduled to end on June 15th, but fans can hear "Best Of" beginning this Monday.
The duo was suspended for 30 days on May 15th for controversy surrounding a broadcast that had a description of violence and rape like comments against Condi Rice, the Queen, and the First Lady.
The news of the suspension caused a string of events to transpire among Opie & Anthony fans. First they attempted to cancel only to find out that rather than cancelling the subscription, XM was suspending it. Taking that as an insult, many fans called up and made double sure that their subscription was indeed cancelled. Some fans went so far as to write the FCC complaining that the merger was a bad idea because Opie & Anthony were suspended (This never made much sense. These are still two separate companies, and Sirius does not control what XM does).
Now, XM has stated that through June 30th, fans that cancelled can reactivate their subscription, and XM will waive the activation fee.
It will be interesting to see what these fans do. Will they maintain their principals, and keep their subscription cancelled, or will they return as if nothing happened? Will those that come back now retract the things they did before, or will they simply return in silence?
Regardless of their reaction we can be sure about a couple of things, Opie & Anthony will be back on XM's airwaves with limits (just as they did before), and the pests will be pests.
Position - Long Sirius, Long XM