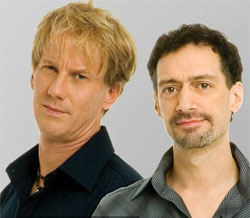 The BEST OF programming on Sirius XM Radio may provide a shock jock solution for Sirius subscribers who love their Howard Stern, but express frustration on the days when Stern is on vacation, or when there are replays of the Stern show instead of a live show.
It is no secret that Howard Stern gets a lot of time off. After all, the King of All Media gets three day weekends thanks to a contract that allows him to take of every Friday. Last year, Sirius added Jay Thomas to the Friday morning slot on Howard 101 which provided a solution to the problem of no live programming on Friday's. The solution was great, and as a fan of Jay Thomas, I enjoy being able to catch him in morning drive. Jay already has an afternoon drive slot on Sirius Stars 102.
However, what is a fan to do when they want a topical shock jock show when Stern and the crew are on vacation? One potential answer is Opie and Anthony. Now for passionate Stern and O & A fans, the crossover idea may seem strange. After all, there seems to be no love loss between Stern and O & A, and that attitude permeates through to the core fans. However, there exists a large group of subscribers that simply want to be entertained, and their allegiance to one brand over another is not so strong that they will ignore a quality show in the absence of their usual listening.
Lately, the Stern channels have been running replays. With Stern getting married, and regularly scheduled vacations, fans have not received the live entertainment that they have come to love. Subscribers who have taken advantage of the BEST OF programming now have a solution in the form of Opie and Anthony from the XM line-up.
For O & A, this is an opportunity to shine, and a chance to expand their own audience. The duo have been putting on entertaining shows, and are likely getting a bit of exposure from frustrated Stern fans who are seeking something other than a replay to listen to. If you are into Stern, and sometimes want a change of pace, the BEST of programming offers a great way to keep your shock jock options open.
Position - Long SIRI