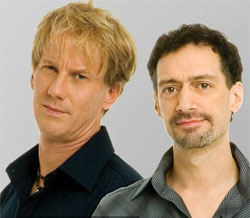 Opie and Anthony have just received an upgrade in Cleveland. Listeners in the midwest city previously had to catch their fix of O&A via a replay in afternoon drive, and thus the show was not live. Beginning today, the Opie and Anthony show is now live in the morning drive slot.
Opie and Anthony are available on both terrestrial radio and XM Satellite Radio. After spending 18 months exclusively on XM, a decision was made to syndicate the show in several terrestrial radio markets. The syndication project went through an expansion and then a contraction as the pair were recently taken off of the air in several markets. Currently O&A are live on terrestrial in 7 markets, rebroadcast in 2 markets, and on line in 3 markets.
For O&A fans in Cleveland the live show means that they can participate in a way that the simply could not do before. For O&A it stops a slide of losing markets to other shows.
Position - Long XM