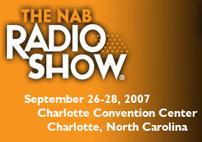 From the "OOPS THAT WAS A BAD HEADLINE" Department.
In a press release issued today, the NAB announced that they would be launching new PSA's geared towards drunk driving. However, the headline of the press release could be taken the wrong way:
"NAB To Launch Drunk Driving PSA's At The NAB RADIO SHOW"
It would appear that the NAB does indeed care about their members. I realize that conventions are places to kick back and have a bit of fun, but someone may want to reconsider the open bar, or at least take away keys upon entrance to the event.
Seriously though, the issue of drunk driving is very important, and not really a laughing matter. What the NAB is doing is launching new Public Service Announcements featuring the likes of Jeff Foxworthy and Gwen Stefani giving messages on the subject to radio stations from around the country. Kudos to the NAB for keeping this important issue in the spotlight.