As any Sirius XM (NASDAQ:SIRI) investor will tell you, the satellite radio provider lives and dies by what is happening in the auto sector.  September and Q3 auto sales are now in the books and it is time to sharpen our collective pencils.  For the month the auto sector sold 1,052,660 units, almost 10% better than last year.  The month over month totals did not fare so well with sales in September dipping by 19,000 units from August levels.  For the quarter sales were at 3,182,697, down about 89,000 units from the 3,271,356 we saw last quarter.
As SiriusBuzz readers have come to expect I have broken down the sales data into the three distinct categories that impact Sirius XM.  The Leading, Point-of-Sale, and Trailing categories carry an impact on the subscriber numbers Sirius XM reports because the company counts these cars in differing ways.
The Leading category is comprised of SDARS equipped vehicles that get counted at the time of production rather than the time of sale.  This happens because the company receives payment for a trial subscription when the manufacturer produces the car.  The Point-of-Sale category is made up of paid for trial subscriptions at the time the vehicle is sold.  Lastly, the Trailing category supplies subscribers only after a trial period, and only if the consumer elects to become a self-paying subscriber.
Right off of the bat we can see that the opportunity for Sirius XM to match last quarters subscriber number is challenged.  Simply stated, fewer sales typically means that the company will report fewer subscribers.  It is not quite that simple though.  The company could match last quarters subscriber number by increasing penetration rate, decreasing churn, or finding new avenues to garner subscribers.  Sirius XM maintains a pretty stable churn and penetration rate.  Do not expect stark changes here.  The new dynamic is the used car deal between Sirius XM and GM announced in the second quarter where any satellite radio equipped used car (regardless of brand) sold at over 1,000 GM dealers will get a trial subscription.  This deal falls into the trailing category and will grow as it gets better implementation and traction, but it did start in Q2 and should help to mitigate the dip in new car sales to a small extent.
The real Sirius XM story in Q3 auto sales actually happened in Q1.  It was March of 2011 that an earthquake and Tsunami struck Japan.  At the time I predicted that the impact would have a ripple effect that would play out over the following two quarters.  I noted that the Leading category saw a bump in sales that allowed Sirius XM to benefit in Q2 and that the opposite effect would be seen in Q3 as a result of weaker Q2 sales in the Trailing category.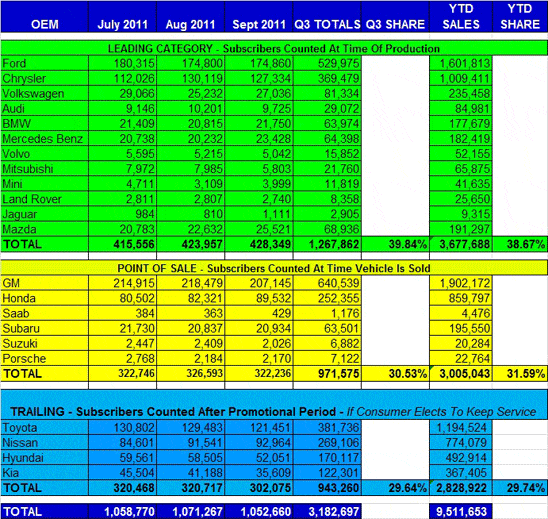 What we are now seeing is that the Leading category is giving up current share to the Point-of-Sale and Trailing categories.  Because subscribers in the Trailing category are delayed by at least three months, the impacts of weakness in that category will always be felt by Sirius XM on a delayed basis.  Over the past few months I have discussed this dynamic at length, sometimes with great criticism being bestowed upon me as a doomsday writer.  My message was not that things were bad for Sirius XM.  Instead it was a message to educate readers on the dynamics of the auto sector and how they impact SIRI, so that investors can make more informed decisions.  Savvy investors took note of this information.
The next dynamic is not contained in the September data, but rather the projections being outlined by auto sector analysts.  Many analysts now seem to agree that 2011 will bring auto sales of 12.5 to 12.7 million.  Given that at the 3/4 point the sector has sold 9.5 million vehicles, the assumption seems to be that the next three months will average 1 million cars sold in each month.  The good news is that the 1 million mark is a level at which Sirius XM can report decent numbers.  The bad news is that it is not indicative of a full blown recovery in the auto channel.
I feel that Sirius XM's guidance of 1.6 million new subscribers in 2011 is very safe.  I also feel that SIRI investors need to temper enthusiasm a bit given these apparently weaker than expected auto projections.  A quick back of the napkin calculation says that Sirius XM will report between 400,000 and 420,000 subscribers for Q3.  I am working on a much more detailed model, but investors should get ready for a subscriber number that is less in Q3 than it was in Q2.
Position – Long Sirius XM