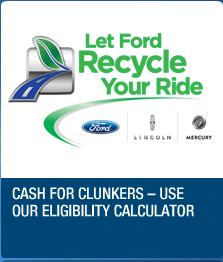 The Cash For Clunkers program has been in full swing for over a month, and as with anything, it has good and bad aspects to it. Yesterday we highlighted some concerns relating to dealers that are getting cash strapped because they are awaiting payment from the government on monies they have already given the consumer.
As the government prepares to address how the program will wind down, they have offered reassurances to dealerships stating that they will get their money. Cash flow is the issue at hand, and the OEM's themselves are stepping in to ease the situation.
Transportation Secretary Ray Lahood stated, "We want to make sure that dealers know when we're getting close to running out of the money that was allocated for the program." LaHood said he recognized that "dealers are frustrated. They're going to get their money."
In the meantime, the auto manufacturers are not waiting for the solution, but instead providing one. Knowing that they need support of the dealer networks, companies like General Motors have begun providing cash advances to its dealers to help cover any cash flow shortfalls related to the program. GM said it will provide the advances for up to 30 days for dealers who have already completed a sale and they will be available as long as the program remains in effect. For their part, Toyota Financial Services is offering loans to dealers for up to 60 days to cover the lag between a dealership's payment and its reimbursement. Honda, Nissan, and Ford are other big players that have also stepped up to the plate. The commitment of the OEM's to help with the situation should help ease the burden for dealers as the government processes requests, and the program winds down.
When the announcement comes about the end of the program, we should see a virtual run on dealerships. Given the recent pace of CFC program sales, there is likely only about two or three weeks left for consumers to take advantage of up to $4,500 in rebates. Look for auto dealerships to have a very busy August.
Position - Long Sirius XM Radio