The NPD data for October 2007 has been released. The NPD Group is the leading global provider of consumer and retail market research information for a wide range of industries. They provide critical consumer behavior and point-of-sale (POS) information and industry expertise across more industries than any other market research company.
The October data shows that retail sales are still down on a year over year comparison basis (30% off of last years sales). Sector sales were also down for both Sirius and XM as compared to last month. The numbers for both companies were not promising, but October true to its past trending has never been a big retail month for satellite radio.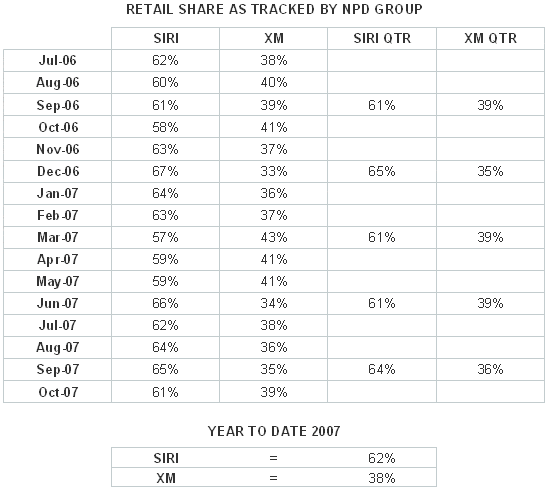 This represents 26 consecutive months that Sirius has posted a retail advantage over XM in NPD tracked sales. The results so far for the quarter show Sirius garnering 61% of the NPD tracked sales vs. XM's 39% share. So far the entire year Sirius maintains an NPD edge, garnering 62% of NPD tracked retail sales in 2007.
YOY COMPARISON (October 2007 vs. October 2006)
Sirius - Down 31%
XM - Down 43%