We anticipated that the headlines for November auto sales would be positive, but the actual numbers were actually slightly higher than anticipated, which sets up a new dynamic for whether or not SiriusXM can hit the 2 million subscriber mark for 2012.  With auto sales pacing decently and the company needing  530,000 subscribers, it seems more doable now than it was just a few days ago when sales were expected to be about 20,000 units lighter than what we saw transpire.
With auto incentives anticipated to remain aggressive, December will finish off the quarter strong.  SiriusXM has subscriber guidance at 1.8 million, a target that will easily be eclipsed.
While auto sales were strong, we are also saw news that production will remain high in anticipation of more sector growth going into 2013.  Ford, who typically provides 6 month paid promotional subscriptions, announced that it will produce 750,000 cars in the first quarter of next year.
For November of 2012 car sales were at an impressive 1,143,766 units, slightly higher than the 1.12 that analysts were anticipating.  Sales grew stronger through the month, and the last week provided a great lift in sales.  Foot traffic was particularly higher for younger buyers.   The sales mix had a bias to OEM partners in the Leading category at the expense of the Trailing.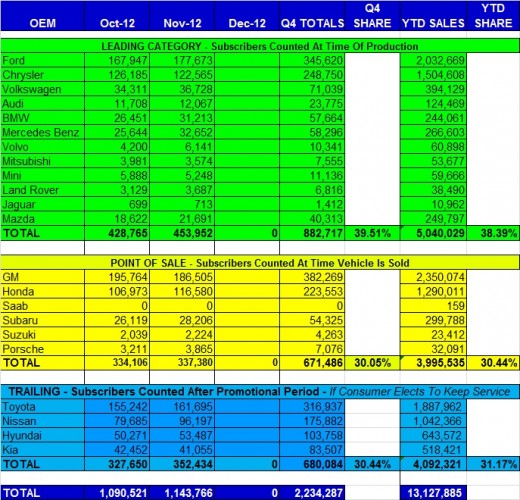 Analysts are anticipating that 2012 sales should hit the 14.4 million mark.  Essentially we need to see December deliver sales of 1,270,000 in order to meet expectations.  More aggressive analysts are looking for 14.5 million, and that would require 1,370,000.  The best month of 2012 has been 1.4 million in March.  Typically December comes in close to the best month of the year.   The best quarter of the year for auto sales was Q2 at 3.8 million.
The sales in Q4 will likely be about 200,000 units lighter than what we saw in the second quarter.  For perspective, Q4 sales should come quite close to the 3.6 million we saw in Q3.  During that quarter SiriusXM reported about 445,000 subscribers.
Positive auto sales, beating subscriber guidance, and other positive events could allow SiriusXM to begin a march to $3.00.  The technicals are looking bullish, so it will be an interesting month.