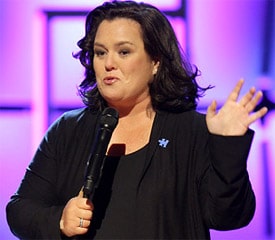 It was just a few months ago that the old fauxs turned friends, Howard Stern and Rosie O'Donnell first made nice on the Sirius XM airwaves and now it looks like their new found friendship will be put to the test in a little friendly morning show host competition.
Rosie Radio is set to launch this fall and air Monday – Friday from 10am -12pm ET on Sirius XM Stars, Sirius ch.102 and XM ch.155. Rosie Radio is said to be a daily, two-hour talk show on which she will blend her many passions and interests – an eclectic mix of humor, pop culture and serious conversation.
"Rosie O'Donnell is a powerful, dynamic and entertaining voice and now you can only get her on Sirius XM," said Scott Greenstein, President and Chief Content Officer, Sirius XM Radio. "Rosie's millions of fans will hear her as they never have before, and have the chance to call in and talk to her and her intriguing guests. Rosie Radio will entertain, inform, surprise and delight."
Now that she is "exclusively" on Sirius XM, does this mean her fans will no longer be able to see and hear her via the infamous Roise blog, where she has been known for her outspoken written and video rants over the years? At the time of this writing there was curiously no mention of her move to Sirius XM… I expected to see a maniacal video blog at the very least to let her fans know where they could catch her next, maybe it is coming soon.