SiriusXM did go and test above the 100 day and the 200 day EMA's over the past week, but the equity could not hold those levels and Friday closed down to $3.38.  The good news is that the bearish move lacked volume, which means there was not a lot of interest in selling off at these levels.  The bad news is that breaking above the 100 day and 200 day EMA's will not be a cakewalk unless something biog happens.  The next possible catalyst is earnings that are still two weeks away.  That could mean that we will stay pretty stagnant going into earnings.  By stagnant I mean a trading range as low as $3.25 and as high as $3.50.  It boils down to whether the street believes that earnings will be bad, average, or good.
On the technicals we have critical support at $3.31 and then a safety net at $3.22.  We have challenging resistance at $3.39 and then $3.48.  What we want to watch for is any move that breaks through either $3.31 or $3.39.  ON the upside or the downside, breaking through these numbers will almost guarantee a move to the next support or resistance level.  Holding below or above these points going into earnings will set the stage for what the street is expecting.
The EMA chart is almost as condensed as it can get.  One key element is that the 200 day EMA is creeping up.  This means that the gap is widening between the 100 day and 200 day EMA's.  This could provide some breathing room to the upside if sentiment gets bullish, or could widen further if sentiment is bearish.  Holding above the 100 day EMA is pretty critical.  On the EMA chart we have the 5, 13, 20, and 50 day EMA's all coiled like a spring.  This is an indication that a move is pretty imminent.  Use the volume as well as the support and resistance levels to gauge where the market wants to take this equity.  The quarterly call should not carry any negative surprises.
Volume

Support and Resistance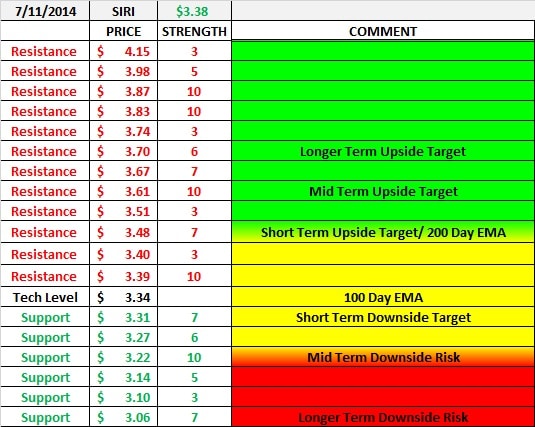 Exponential Moving Averages