Last year there were many things that were down at the bottom in the U.S. economy. Auto sales, retail sales, housing starts, and radio advertising sales to name a few. Radio ad sales is a key component to terrestrial radio making money. With terrestrial radio being free, it is those ad sales that pay the talent on the air, and pay for the people needed to manage a station. For satellite radio ad sales are not quite as important because the music channels are commercial free and the business model is subscription based. However, ad sales on non-music channels do add to the bottom line.
With many companies set to report earnings for Q2 some of the positives of Q2 and the first half of the year are making their way out to the public. One positive terrestrial radio is experiencing so far this year is an up-tick in national radio spots. Local ad spots are still down. National spots include ads from companies like Gieco, and automakers. In essence, companies that advertise on a national level. In Q1 national ad spots saw an increase of 19%. That trend is expected to continue in Q2.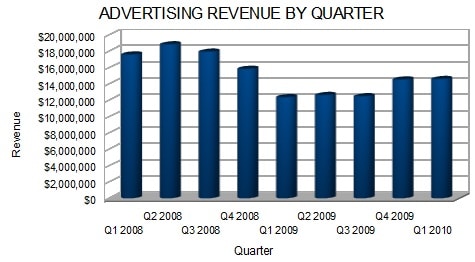 For Sirius XM, the re-emergence of national players willing to advertise on radio is great news, and is an avenue that the company can exploit for more growth. In Q1 of 2010 Sirius XM had $14,527,000 in ad sales. Q1 of 2009 was at only $12,304,000. The represents a year over year increase of about 18%, which is in line with what we have seen in terrestrial radio for Q1. The industry is expecting Q2 and Q3 to deliver similar increases not only for Q2, but Q3 as well. For Sirius XM this could mean a march upward toward advertising levels seen in 2008. While ad revenue is not a huge contributor to the overall revenue, seeing it rise is indeed a good thing. There was a point in time when Mel Karmazin stated a goal of ad revenue reaching 10% of overall revenue. He has since backed off of that goal, but an improving advertising situation is in the cards. In Q1 of 2010 ad revenue accounted for 2.2% of overall revenue. Sirius is already participating in this additional advertising to the same tune as terrestrial, and the months ahead look to be showing more growth.
The other positive for Sirius XM in the advertising space is that improvements that continue to track well could be an additional indicator of an improving situation in the economy. One reason to monitor the media sector and specifically data concerning local advertising is for signs of recovery. If local advertising begins to follow suit with the rises we are seeing by national players, it could be a signal of an economic recovery. Another reason is that advertising trends for terrestrial radio are monitored more frequently (usually monthly) than we see with Sirius XM (quarterly). Knowing the trends during the quarter could allow investors to have a gauge on where line items such as ad revenue will be.
Position - Long Sirius XM Radio