The NAB has a bit of egg on their face today. In a filing with the FCC, the National Association of Broadcasters apologized for portraying Congressman John Conyers Jr. (D-MI) and Congressman Steve Chabot (R-OH) as being against the proposed merger of Sirius and XM.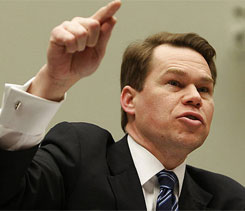 The letter states, "While both members have raised questions about the merger, it is inaccurate to characterize them as opposed to the merger."
The letter references four occasions where the NAB mis-characterized sentiment of the congressmen:
August 8, August 10, August 14, August 16
Reading between the lines, it would appear that the National Association of Broadcasters likely was informed that the congressmen did not appreciate being characterized in the manner they were. A similar event regarding Toyota has also happened, where Toyota went so far as to file documentation with the FCC taking exception to how the NAB characterized Toyota's stance on the merger.
Position - Long Sirius, Long XM