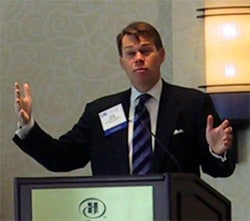 After months of delay tactics, hundreds of Ex Parte filings, and even going to the extreme of creating an internet survey where only those responding against the merger were forwarded to the FCC, the National Association of Broadcasters had surprisingly little to say upon hearing the news of the FCC's approval.
Dennis Wharton stated, "Today's vote certainly comes as a disappointment to NAB. We continue to believe that consumers are best served by competition rather than monopolies."
That's it! A statement from Dennis Wharton. Nothing from NAB President David Rehr, and nothing about the consumers who were for the merger. Perhaps they are busy updating the legislative priorities on the front page of their website to reflect 2008 rather than 2007. Or maybe they are trying to figure out what to do with that space on their website dedicated to opposing the Sirius and XM merger.
Position: Long Sirius, XM.