The NAB made an official press release today that read "NAB Launches XMSiriusMonopoly.com" but, wait…wasn't this website launched back in April? No big deal, I am betting they didn't want to make the public aware of the new site until they finished coloring it in.
The real meat of the press release was really about the NAB's ability to make really big banners and attach them to the side of buildings. So, NAB, how do you feel about the merger…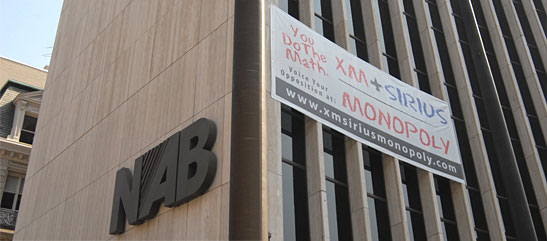 I guess that sums it up but, I do have a question based on your math. What is radio station plus radio station plus a thousand other radio stations equal? Isn't Clear Channel a member of the NAB?
The NAB (and Sirius stockholders) should be glad that I am not running Sirius because, if it were up to me I would be flying planes pulling even larger banners around that very building and the rest of the nation, pointing out all of the NAB's obvious hypocrisies and blatant conflicts of interest.