The National Association of Broadcasters has made some changes to their website. The new site is more user friendly, but that is not the change that I think is most notable.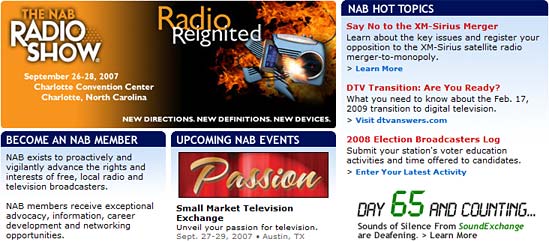 The NAB now has a large "Shot Clock" graphic outlining their issues with Sound Exchange. This centers around proposed legislation that would reverse new royalty rates that some feel would cripple on line music listening. The issue is critical to terrestrial radio because it is a booming business for terrestrial broadcasters with NAB membership garnering over $200,000,000 in revenue in 2006. At this point Internet broadcasting gives terrestrial radio stations a national audience. This segment of audio entertainment is growing quickly, and terrestrial radio stations want to keep royalty payments to a minimum. There is currently no royalty for over the air broadcasts for terrestrial radio, but the RIAA and others would like to change that as well. The NAB is drawing the battle line with the Internet issue.
This issue is the second major "front" that the NAB is fighting currently. Their opposition to the proposed Sirius and XM merger has had a lot of attention over the past few months, but now the NAB finds itself having to deal with a direct attack from the likes of sound Exchange and the RIAA. Lobbying dollars can only go so far.
On the congressional front the NAB seems to more readily get support for their fight against the RIAA than they do for their opposition for the satellite radio merger. Their fight against Sirius and XM has gained support of a bit over 80 members of congress, while their royalty fight has gained support of over 140 members.
Not lost to the observant eye on the NAB website is a change in tact regarding the Sirius XM merger from the previous version. The old site had a section that proclaimed "The Truth" about the Sirius and XM merger. They still show their opposition to the merger, but it appears that their focus is now shifting to the Sound Exchange battle.
Whether there is a meaningful shift in the NAB focus is not yet known, but clearly the NAB is now turning up the heat on Sound Exchange.
Position - Long Sirius, Long XM