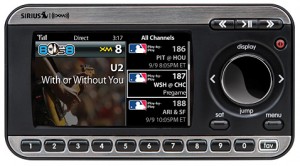 Let me start by saying that as a Satellite Radio fanatic, I will be one of the first to purchase the new Sirius XM Mirge. It is loaded with features that I for one, must have and will at any cost.
Of course, I had better act quickly, because I predict its shelf life will be short lived. Let's face it. Now that the two companies have merged, there is absolutely no reason John Q. Public would want an interoperable radio.
The music channels have been shoehorned into one. Hair Nation on Sirius is Hair Nation on XM. Having a button to let a person switch the platform for an extra cost is just ridiculous.
Of course, this radio has only come into existence for one reason and one reason only; to satisfy Deborah Tate of the FCC and fulfill a condition set forth by the merger approval of Sirius and XM.
As for its value to the market and to Satellite Radio's future. That, in my humble opinion, would be zero.
Postion: Long SIRI