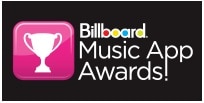 How important are apps on smart phones to the music industry? Apparently important enough that Billboard Music has introduced The Music App Awards, the highlight of the Music App Summit in San Francisco on October 5, 2010. Sirius XM has some apps of their own, and at a minimum their Android app would qualify for at least one award.
Music applications are among the most popular types of apps downloaded on today's smartphones. But which are the best of the best? Which new music apps created in the last year are setting the stage for tomorrow's successes? Billboard's Music App Awards is the first app awards program answering these questions by showcasing and celebrating the best and most innovative new music apps defining the space today.

The Music App Awards serve as the core of Billboard's Mobile Entertainment Live!: The Music App Summit , Oct. 5 in San Francisco, held in conjunction with CTIA's Wireless Enterprise & Applications. All applicants will receive discounted admission to the conference. Finalists will be featured in a Billboard article listing the best apps of the year, have the opportunity to demo their app onstage and be given free demo space in the exhibit area. Winners will be chosen by an independent panel of influential industry experts and awarded their prize on-site.
Awards will be given out in the following categories...
Best Artist-based App: Apps created specifically for an individual artist
Best Music Streaming App: Apps that allow users to stream, download or otherwise enjoy music, such as Internet radio or on-demand.
Best Music Engagement App: Apps that lets users engage in music in various ways, such as music games, music ID services, etc.
Best Music Creation App: App that lets users make their own music.
Best Branded App: App that best incorporates a sponsor with music capabilities to promote both the sponsor's message and highlight the music.
Best Touring App: App created in conjunction with a specific tour or festival.
Billboard's editorial team will select three finalists for each category, and an independent panel of judges will pick the winners.
Whether Sirius XM has entered is unknown, but it would present an interesting way to gain exposure for the company. There are certainly a lot of good apps out there, and the winner will get some great exposure. Sirius XM has a heavy reliance on the automotive sector for gaining subscribers, but smart phones are a fast growing segment for consumers to access their audio entertainment. Some of the statistics on the number of music apps that get downloaded are quite impressive.
If Sirius XM hasn't entered, but plans to, they have less than a week to do so.
[via Billboard Events]
Position - Long Sirius XM Radio