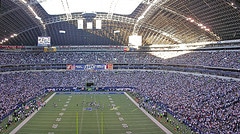 Everyone has a passion, and they exist in many forms. The passion of many regarding Sirius XM is an example that appeals to a limited audience. For many, music is a passion. For many others, that passion is sports. Consider the popularity of fantasy sports leagues.
The message from Sirius XM has been that they intend to broadcast programming that is not available anywhere else. There has been a lot of talk of competition from other audio devices but the company has made it clear that content is king, a mantra it has repeated over the years. The Mad Dog Channel is one such offering that will be unavailable on any other form of audio entertainment.
How much of a difference will it make? According to winter 2008 data from Arbitron, the Mike and the Mad Dog show had more than 659,000 cumulative listeners over the course of a week. The Mad Dogs former show was a regional show, which focused on New York teams.
I can tell you from experience that New York sports fans are just as passionate as Dodger fans, Red Sox fans and Cubs fans. Packers and Steelers fans are just as passionate as Giants and Jet fans, and Knicks fans have nothing on Lakers fans. This latest offering from Sirius XM is a first of its kind and could dramatically boost subscriber numbers and retail sales.
A kneejerk poll conducted by AMNY, indicates that 26.5% of respondents would make the move to Satellite. This translates to 174,635 subscribers and 21 million in annual subscriber revenue from the NY market alone, if we assume a similar percentage of all listeners, plus additional revenue from advertising. Now consider the potential in Chicago, L.A., Boston and all the other sports markets from Miami to Seattle.
In a CNBC interview, Chris "Mad Dog" Russo gives us an idea of the programming and content he has in mind. This will be the only national sports talk radio show available. With 19 years of experience, Russo knows what works and what doesn't. ""Mongo" and The Mad Dog" may prove to be just what Wall Street has been looking for, commercial free music and nationwide sports talk. You can't get that on an iPod.