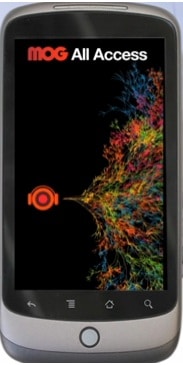 You probably haven't heard much about MOG, but all that will change now that the company has won top honors for the best music streaming app at Billboards Mobile Entertainment Live Music Summit. The feat is impressive in that there were several top notch names among the competition.
Admittedly, although I knew it existed, I had not tried MOG until yesterday. With the app garnering such an award among stiff competition, it became a necessity to give the app and service a test drive. There are likely some readers who are saying, "Here we go, another Internet Radio article from Spencer, and this when SIRI stock is on such a run." To those I say expand your horizons. News is news. Sirius XM has a wonderful business model and can thrive in this environment. The existence of other services should not be viewed with contempt, but rather with a keen business eye to see the high points of any competitor and understand the consumer better.
MOG is a pretty impressive service. It is a combination a music streamer, a download service, and music discovery all in one. For music fans it is likely about the best you can get. MOG takes the best aspects of Slacker and Pandora, adds a social aspect and brings it all together in an app that is user friendly and very intuitive. From customizable channels that are instantly created to features like the MOG top 50, it is a breeze to use. Another cool feature is the ability to start a channel off dedicated to a single artist, and use a slide bar to add in more and more similar artists. MOG is commercial free, allows unlimited skipping, and allows the user to pick and scroll through songs to their hearts content. It is little wonder why MOG took the top honors in the music app arena.
MOG allows streaming, as well as instant downloads. You can stream and download as much as you want for a flat monthly fee of $9.99. This lands MOG at a price point slightly above Slacker and Pandora, but below satellite. With their unlimited download feature MOG is likely in a sweet spot for pricing. Like other Internet Radio services, MOG currently has a focus on music, meaning that in terms of content satellite radio still has an advantage. However, for music fans, the service definitely is impressive.
I have often written and spoken about these other services and how I feel that while satellite delivery offers distinct advantages the world of Internet Radio is becoming more and more competitive. Just today CNBC did a piece on whether or not Pandora is a threat to satellite radio. Personally I have always preferred Slacker over Pandora, but MOG has really put something special together, and despite what passionate satellite radio fans my feel, it deserves credit for the innovations that MOG brings to the table.
If you haven't already done so check out MOG. If it makes you feel better you can say it is to research the competition...but I know that music fans that try it will have no choice but to appreciate it.
Position - Long Sirius XM Radio